Island Map Publishing started a growing collection of maps with several colorful coffee table books we've published on the Bahamas, the Florida Keys, and Naples, Florida, where I'm from. The books use antique maps, along with maps we produce, to describe the history of places in a format that's entertaining to read and fun to learn from. It's been 20 years since our first map, and we're destined to finish the entire US coastline soon!
When we design a map our cartographer (map maker) produces a draft using numerous programs and source info, GIS and published data. We then check her work in house and with people who live in that map's area. After all that, I physically go to the area and meet with people as a final test if our map is ready to publish. It's a long process that can take a year or more.
Today I'm writing from Pass Christian, Mississippi. I'm here to explore the coasts of Alabama and Mississippi for our map that combines these two states. Our map has had great reviews from the locals since it's interesting and presents the first decorative wall map of the area done in a very long time. I've met with several people including an old maritime operator who lives on the coast and knows the region well. He and others checked our map and approved of it, now I've visited the area, and met with locals we're ready to publish it.
This area of America's coastline is affectionately known as the "Redneck Riviera". It's full of tourists this time of year (July) and the beaches are beautiful white sand with lots of waterways to explore and fish to catch and dine with, the fish on the losing side of dinner conversations. The area is full of US military bases and it's fun to see fighter jets regularly flying along the beach. Offshore, the beaches in Alabama have crystal clear water that's over 80 degrees today, perfect for swimming. Here in Mississippi the water is not so clear because we're close to the Mississippi River delta.
That's it for today, y'all come enjoy the warm southern hospitality and charm of the real south, Alabama and Mississippi!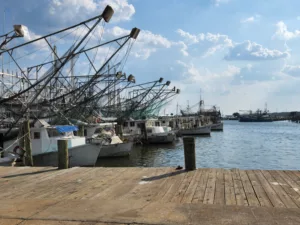 Shrimp boats at Pass Christian, Mississippi